UltraGROSS
The new Benchmark in Grossing
<![if !vml]>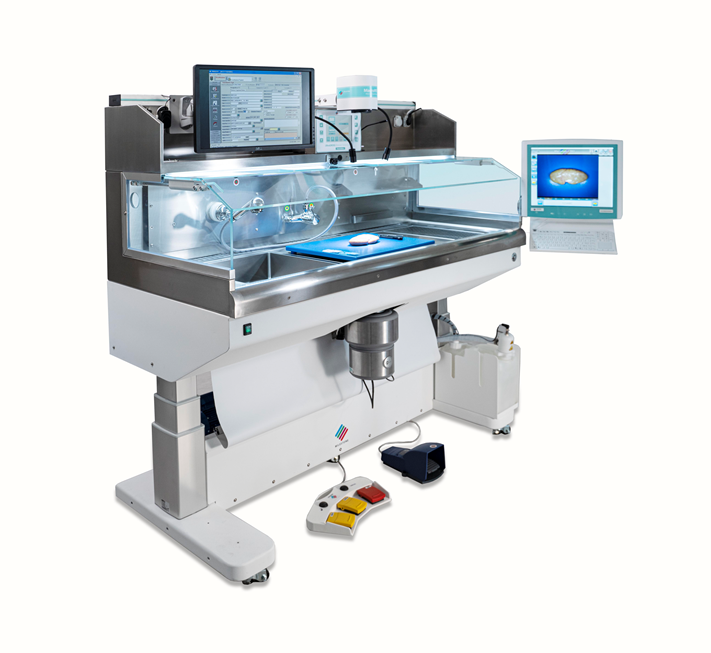 <![endif]>
Next generation grossing
Grossing is one of the pillar steps in the specimen preparation toward pathology diagnosis. Over the years, traditional grossing stations have been incrementally improved, but never offered a breakthrough approach to this fundamental step.
UltraGROSS opens a new era of the grossing devices: for the first time ever the grossing station becomes a scientific tool. With the UltraGROSS, the pathologist generates full documentation and ensures complete traceability of the grossing, maintaining intact the chain of custody. This new scientific tool incorporates several innovations that have a direct impact on the laboratory and its workflow:
<![if !supportLists]>· <![endif]>Enhanced user safety
<![if !supportLists]>· <![endif]>Tailor-made modularity
<![if !supportLists]>· <![endif]>Optimal ergonomics
<![if !supportLists]>· <![endif]>Macro digital documentation
<![if !supportLists]>· <![endif]>Smart user interface

Why UltraGROSS?
<![if !supportLists]>· <![endif]>ENHANCED USER SAFETY
UltraGROSS offers a safe and formalin-free working area via a horizontally sliding safety shield with a 30° angled front in combination with the powerful downdraft and backdraft exhaust. Bio-decontamination function available to decontaminate the working surface through a dedicated disinfectant solution with germicidal and virucidal efficacy.
<![if !supportLists]>· <![endif]>TAILOR-MADE MODULARITY
The UltraGROSS is designed around your todays and future routine. Stainless-steel modules in AISI 316 can be moved across the entire basin (stainless-steel structure in AISI 304) without the need of service engineer. The operator can easily change the set up of his working area, placing the modules in the desired position. A single basin is placed underneath and can be used for cleaning of extremely large samples.
<![if !supportLists]>· <![endif]>MACRO DIGITAL DOCUMENTATION
MacroPATH, the most advanced macro digital tool, enables the operator to fully document and track the grossing procedure to enhance patient safety.
<![if !supportLists]>· <![endif]>OPTIMAL ERGONOMICS
The height of working area can be easily adjusted via the user interface. Mobility is ensured thanks to the sturdy casters with safety blocks. Fast connections available for water, power, exhaust, and Ethernet.
<![if !supportLists]>· <![endif]>SMART USER INTERFACE
All parameters are always available via the smart touch screen terminal. Additional files, such as SOPs, grossing guidelines of AAPA and tutorial training videos can be quickly uploaded via USB.
<![if !supportLists]>· <![endif]>COMPLIANCE TO SAFETY STANDARDS
The UltraGROSS complies with the following international safety norms: 2014/35/EC; 2014/30/EC; 2011/65/EC; CEI EN 61010-1/A1:2019; CEI EN 61326-1:2013; EN 14175-3:2019 – Par. 5.2, 5.3, 5.4; EN 12469:2000 – Annex C; EN 12600:2004; EN ISO 14738:2008; UNI EN 13792:2003.
VinhHung Medical Company
No.5 Alley 52/255 Nguyen Khang Road, Yen Hoa Ward, CauGiay District, Hanoi City, Vietnam.
Tel: +84 24 66584306    Hotline: +84 9 61666561
Email: vinhhungmedical@gmail.com
Website: www.vinhhungmed.com.vn